What to put in your donor newsletter
Do you ever hear a song lyric wrong ...
... and then it stays stuck in your head that way?
Take, for example, Prince's song "Little Red Corvette."
Brett's (11-year-old) ears in 1982 somehow misheard the "little red Corvette" chorus as "steal away, come on, hey."
In his wee brain there was, well, this whole other song.
I enjoy this. It's goofy good fun. It makes me laugh.
But it also means Brett hears the song differently than others do — never in the way Prince intended. (No Corvette vibes.)
Which brings me to donor newsletters.
The word "newsletter" makes me think of "news" — obviously.
That's appropriate — partially.
A newsletter should feature news... but not only news.
And so — like a misheard title — the word "newsletter" may invite a sort of (subliminal) misunderstanding that gets stuck in your head.
Therefore, perhaps it's worth pondering:
What to put in your donor newsletter...
It's not complicated.
It's just important to remember.
So we give you a checklist of sorts, for what you might include in your donor newsletter: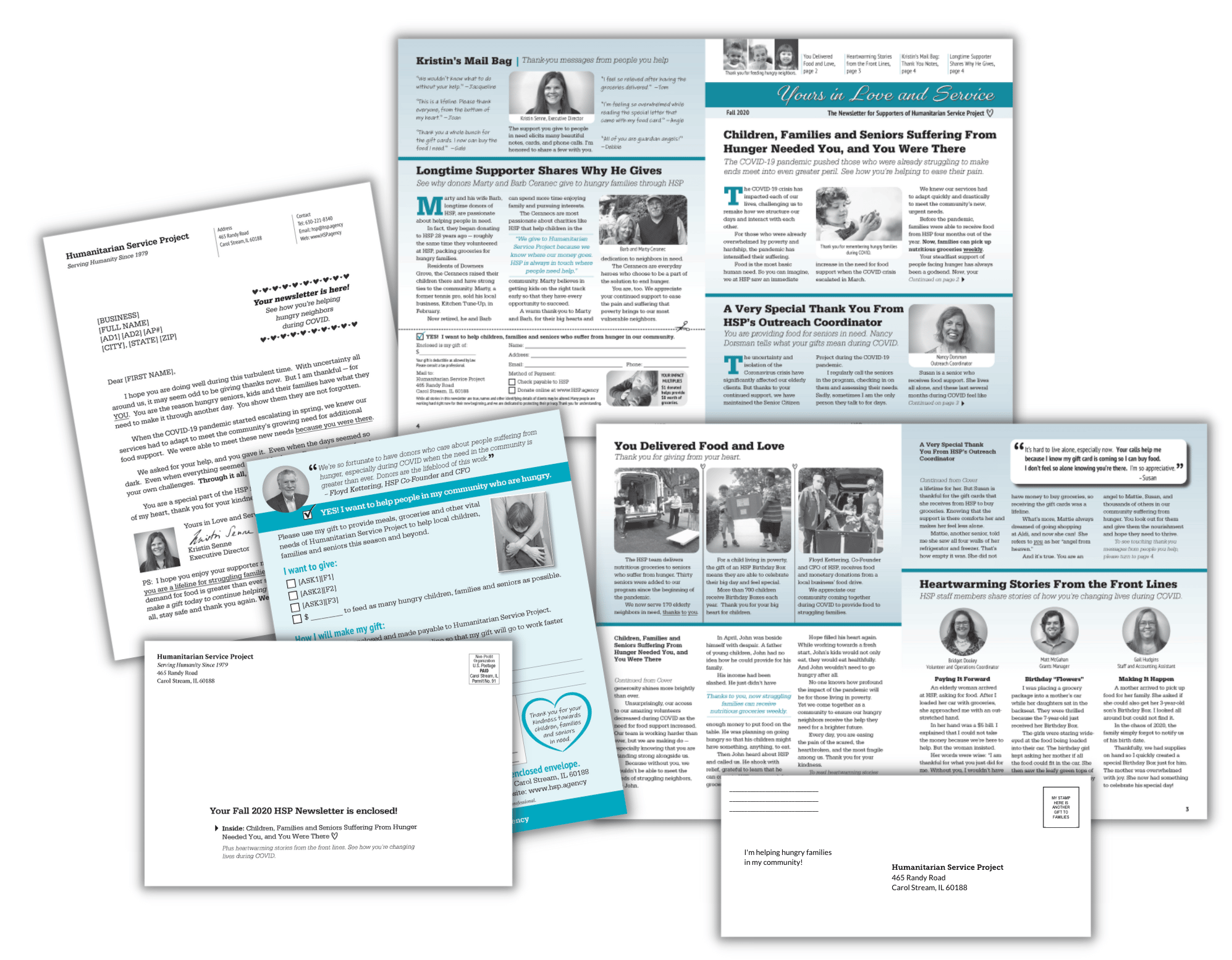 News — Yes, of course, highlight your news! This will usually take the form of...
​
Stories of Impact — For each story of impact, first remind us of the story of need, then follow with the impact the donor's support made possible.
​
Images — Make sure your images tell the story. Nothing in them should distract from the story. Focus on people... animals ... faces... eyes.
​
Captions — People are trained to read captions. Valuable real estate! Don't disappoint!
​
A Story of Need — Consider including a story of need that has not yet been resolved. And consider following it with...
​
A Call to Action — After including a current story of need, ask the donor to take action such as donating, becoming a monthly donor, or volunteering.
​
​(This should be brief and not a "hard sell.")​
​
A "Save the Date" – If you have an upcoming event or program to promote, consider writing a short paragraph asking your donors to "save the date."
​
Stories of Social Proof — These are special impact stories featuring donors and volunteers. They often motivate others to try to be like them.
​
A Letter — Often from the Executive Director or the Board President... keep this (optional) letter short, sweet, and focused on how the donor has helped.
​
Headlines — Your headlines should be visually bold, specific, and donor-centered.
​
Subheadings — Your subheadings should help your headlines by "commenting" on them, so that your donors can immediately connect to the gist of the story.
​
Reply Form and Envelope — Make sure you provide an opportunity for your donors to give again!
​
Outer Envelope — Use one! Newsletters that arrive in outer envelopes almost always raise more money than do self mailers with no envelope. 🙌
While you're here...
Why not read a little more?
Here are a few more blog posts you might like:

1. Thank You for the "Mental Real Estate"
2. You Can't Feel "Empty Urgency"
3. X-ray of a Donor Newsletter -- "Know Your Bones"
4. You Can't Get Donors to FEEL It If You Don't Feel It First
The Fundraising Writing
Newsletter
Every week we send a letter about fundraising, writing, donors, and life to smart fundraisers like you.
We share fresh, practical donor communication tips and resources... and some silliness too.
It's free. Unsubscribe whenever you want.
We love when good things arrive in our inboxes. If you do too, subscribe today.